#OGBEMEA Virtual Tour 2021 will take place between the 15th of October and 29th, and SwissOUC is part of it.
Save the date of October 20 and 21 to attend the SwissOUC afternoons!
This year, 10 Oracle User groups are collaborating to bring together novices and specialists from all over the world.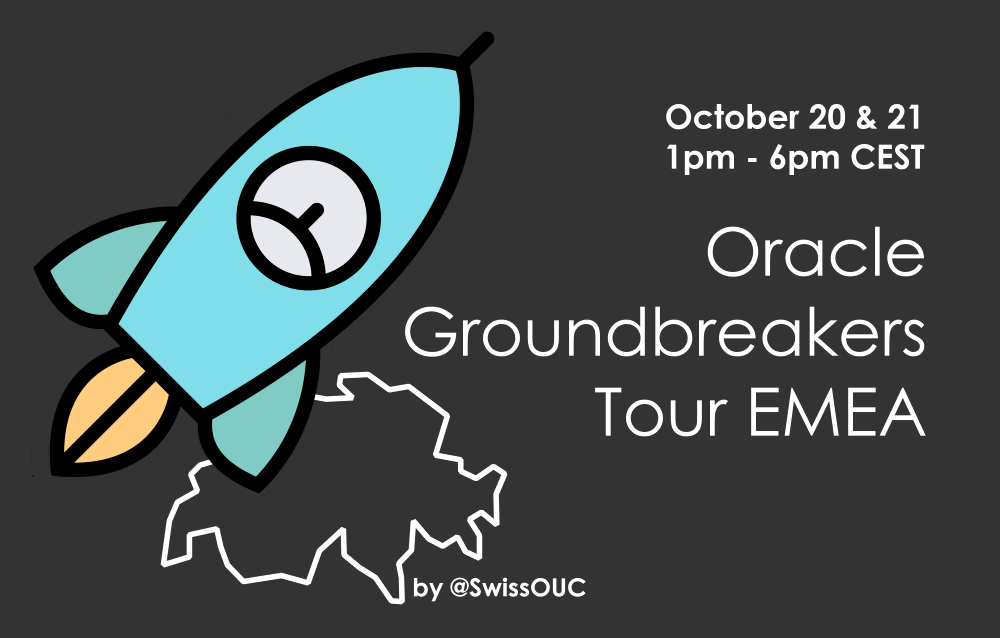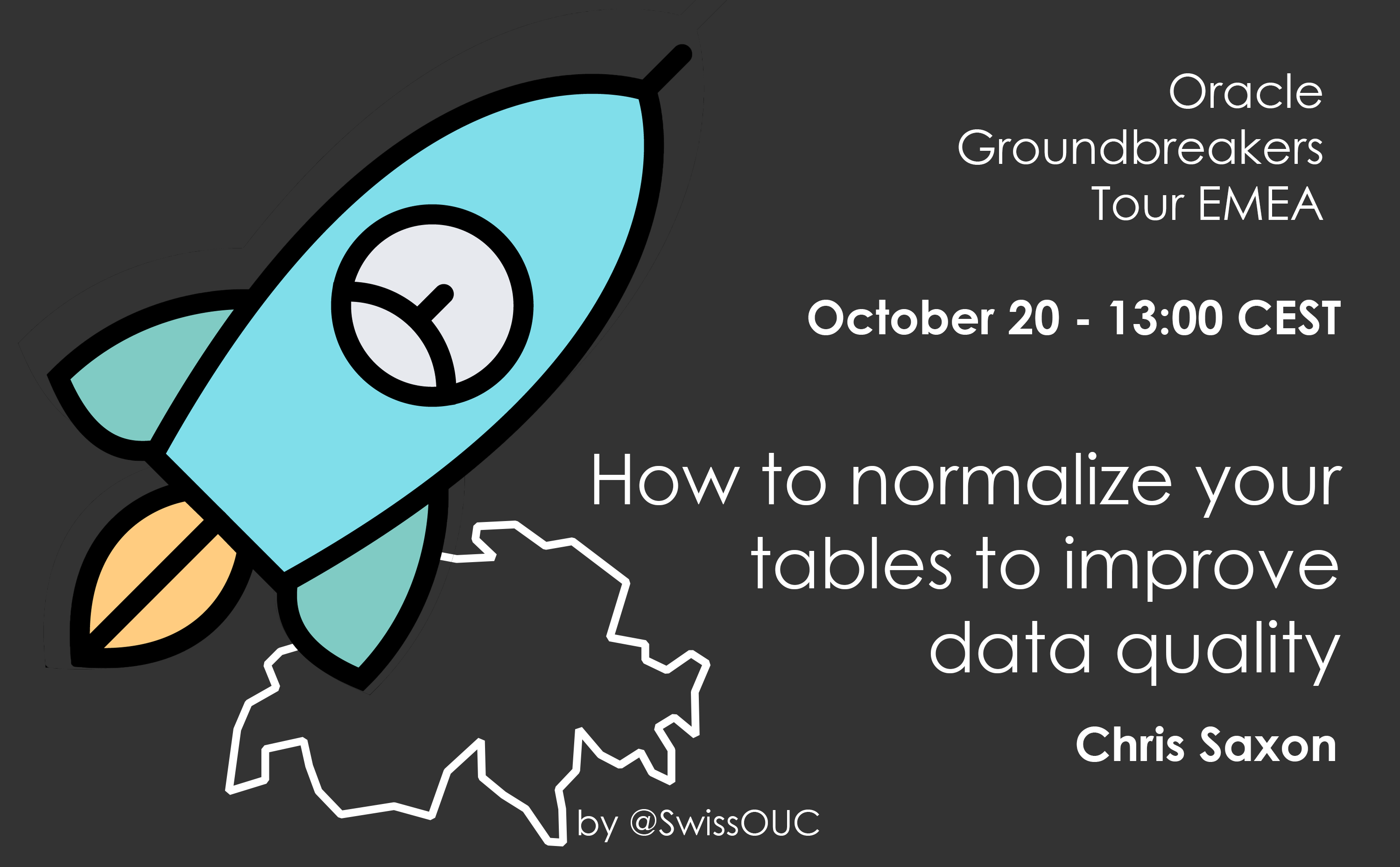 1:00pm (CEST) – October 20
How to normalize your tables to improve data quality
Speaker: Chris Saxon
Normalization is the process of structuring your data to avoid duplication and increase quality. But how does it work?
This back-to-basics session discusses the problems that can arise when you store unnormalized data. It then shows you how to normalize to avoid these issues.  This session is a must for anyone who creates database tables.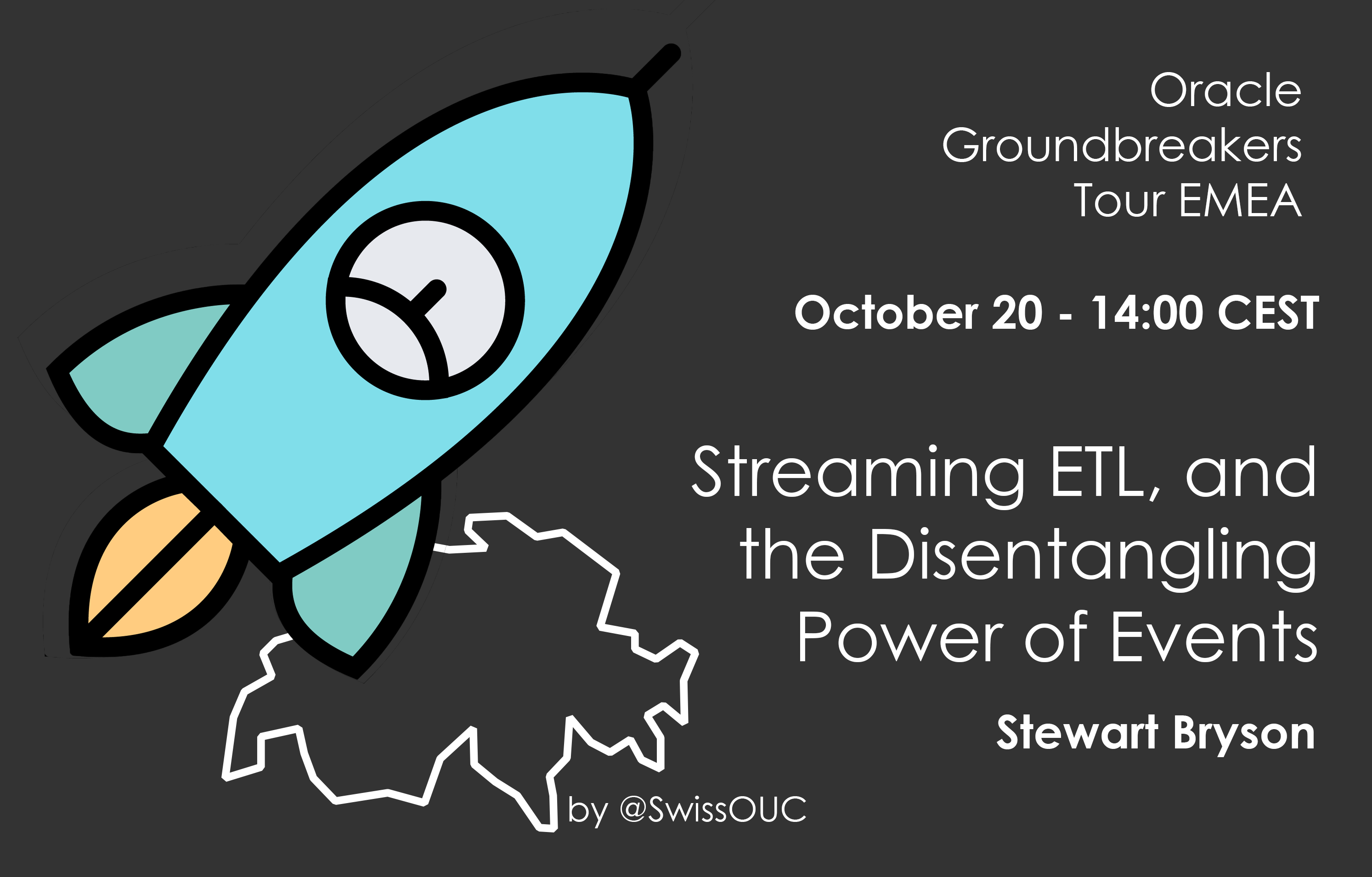 2:00pm (CEST)  – October 20                      
Streaming ETL, and the Disentangling Power of Events
Speaker: Stewart Bryson
The proliferation of cloud applications through the modern enterprise has affected a fundamental shift in the kinds of data organizations are sifting through:
Not all data is relational data. Not all data is corporate data. The cost of storing data long-term is now negligible. This shift has caused a new entry in the extract, transform and load category: the Streaming ETL platform.
In this session, I'll dispel misconceptions around what "Streaming ETL" means, and explain why event-streaming and event-driven architectures compel us to rethink old approaches. Using Apache Kafka, the Confluent Platform, and ksqlDB, I will dissect the concept of events, how they relate to tables and streams, and how to disentangle sources and targets in a data pipeline.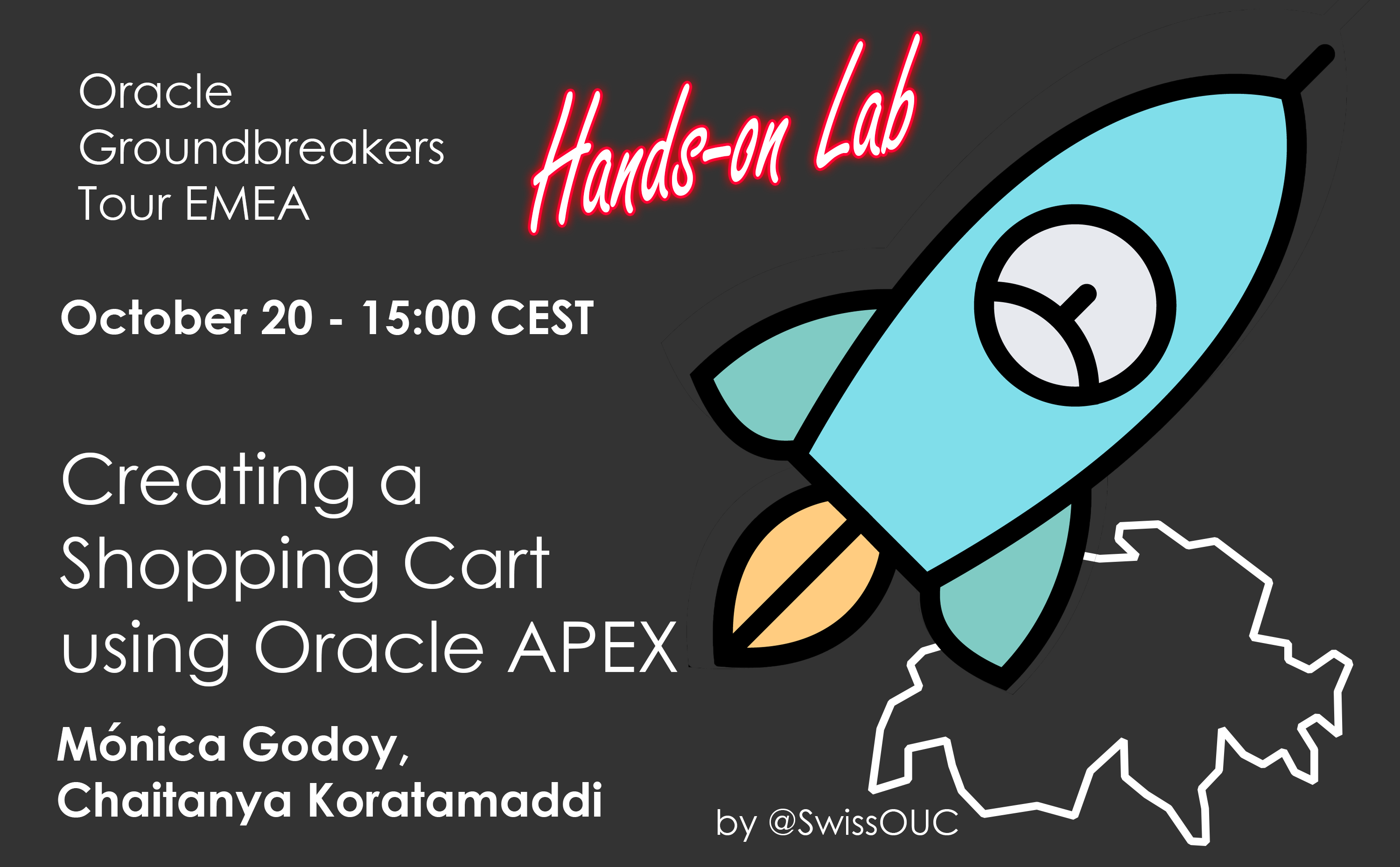 3:00pm (CEST)  – October 20
Hands-on-Lab: Creating a Shopping Cart using Oracle APEX
Speakers: Mónica Godoy | Chaitanya Koratamaddi
This workshop walks you through the creation of a Shopping Cart application that allows administrators users to manage the products, customers, and stores.
On the other side, customers can review and add products to the Shopping Cart and eventually proceed to checkout.
IMPORTANT: Oracle can offer you a special Oracle Cloud Account Free tier with 500$/30days trial and no credit card or SMS verification to follow this APEX hands-on lab. To benefit from this offer, please register at least 2 days before the event.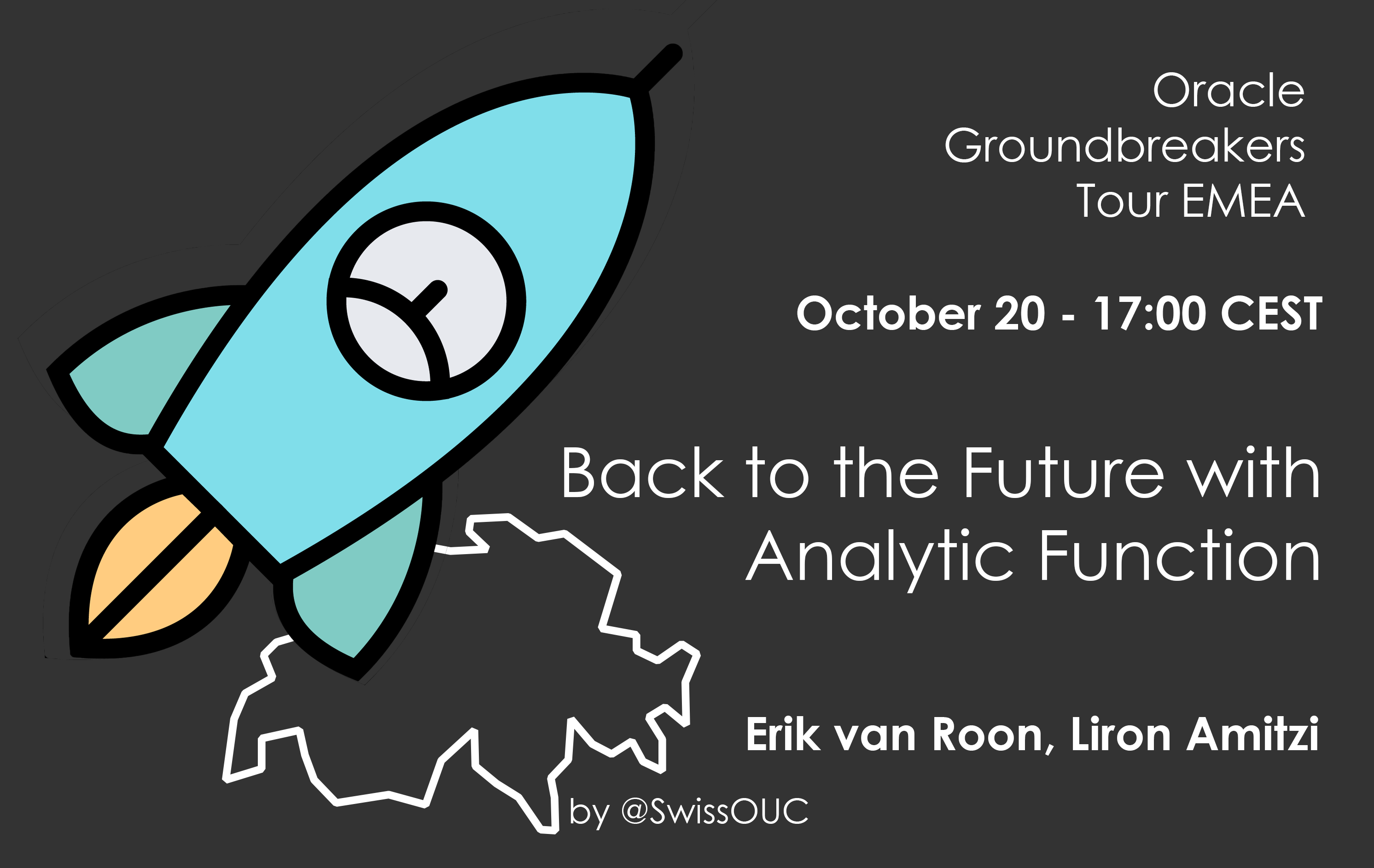 5:00pm (CEST) – October 20              
Back to the Future with Analytic Function
Speakers: Erik van Roon | Liron Amitzi
Analytic functions in SQL, also known as windowing functions, have been around for quite a while now.
Even if you are familiar with the concept of analytic functions and are working with them occasionally, you may not realize the full potential of this feature, and in how many different scenarios it can be used.
In this session, Liron and Erik will go over a few real-life client requirements they need to find a solution for.
Liron and Erik will go back to the time before analytic functions existed and will try to solve the client requirements without them. Then, they will return to the present where analytic functions exist, taking advantage of them to provide the same results.
So, if you'd like to see how using analytical functions can provide a simpler, more maintainable, and better-performing solution, then prepare to step into your future and come to this session.
1:00pm (CEST) – October 21         
The Superpowers of the Oracle Database
Speaker: Philipp Salvisberg
PL/SQL combines static SQL with a procedural language. This makes processing within the database easy. But why inside the database? No unnecessary data transports. Consistent data. Optimal use of resources. Good response times. That's why. However, the real superpowers of the Oracle database are its features. In this talk, I will connect a superpower of each founding member of the Justice League to an Oracle database feature. With live demos and links to more information to get you started. Some covered features are:
– Advanced Queuing
– Flashback Data Archive
– Virtual Private Database
– Oracle Spatial
– Oracle Text
At the end of the talk, I will cover the benefits of file-based development and show how you can use testing tools and static code analysis tools to achieve and maintain good code quality. Do you provide solutions based on the Oracle database? Then you must not miss this presentation. You will for sure learn something new, regardless of your level of experience.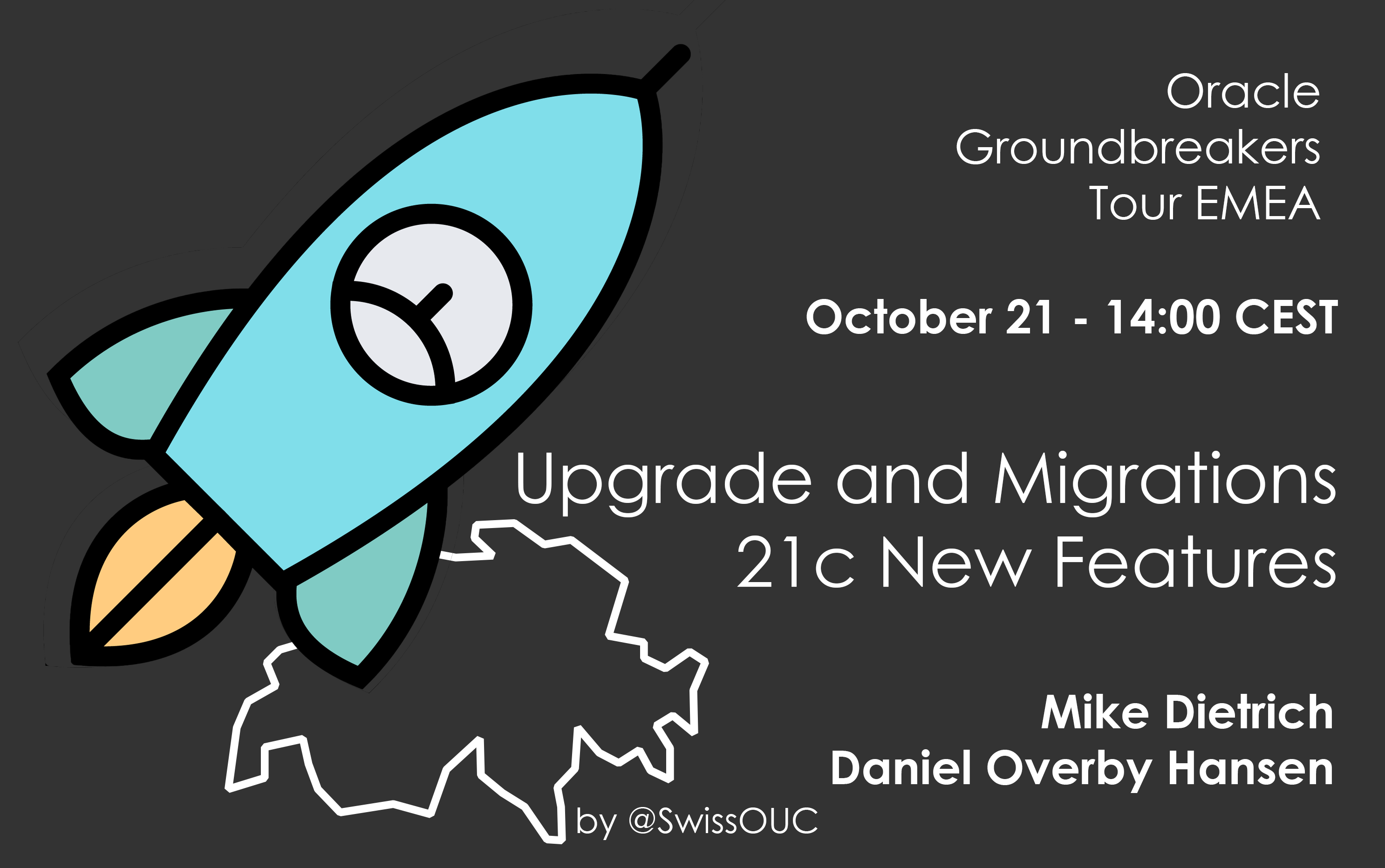 2:00pm (CEST)  – October 21             
Upgrade and Migrations 21c New Features
Speakers: Mike Dietrich | Daniel Overby Hansen
Oracle Database 21c is out – and there are a lot of new things regarding database upgrades and migrations. This includes certainly the migration to Oracle Multitenant but also a new default technique to upgrade PDBs. And much much more. We will cover it all and give you technical insights into the new 21c upgrade and migration features: The good, the bad – and some really cool ones.
This will be a technical talk free of any marketing or advertising. But we will include as many demos as possible to really demonstrate new features.
3:00pm (CEST)   – October 21         
What a DBA should know about the Oracle REST API
Speaker: Julian Frey
With the release 19.2 of Oracle REST Data Services Oracle introduced functionalities for DBAs to operate a database via a REST API. The main focus of this presentation is on the architecture and what a DBA needs to know to run this API safely. It enables automation processes to directly communicate with the database without interaction with the server but there are some questions to be answered before we implement ORDS. Who can use this API? How do they authenticate? Where should the Webserver be placed? Is it safe?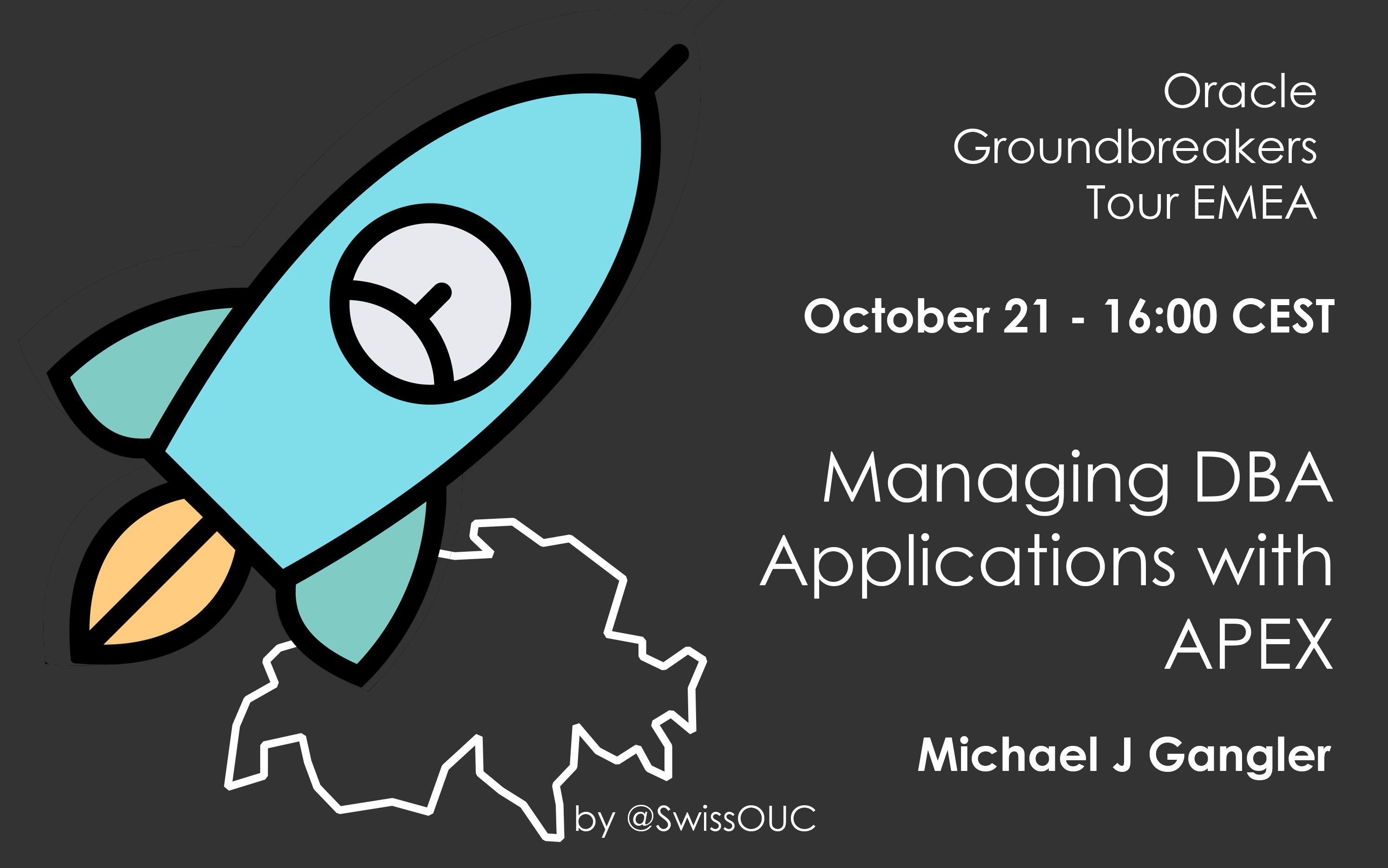 4:00pm (CEST)  – October 21              
Managing DBA Applications With APEX
Speaker: Michael J Gangler
Are you in an environment that has more than ten databases with multiple environments and technologies? 
If not, you're lucky. However, this session can help you along with the DBA with many and multiple databases and environments. This presentation will attempt to gap the usage of Oracle's Free tool—APEX—with normal database operations to organize and gather information from your database and identify performance, backup, and utilization patterns. This won't replace Oracle's OEM and AWR warehouse but act as a first step to understand where to look in the OEM or other 3rd party tools. This application can be used by DBAs or managers who want to understand the database resources that are currently used (total CPU, memory, etc.). Plus, it has multi-tier and department usage and can be set up by any level DBA.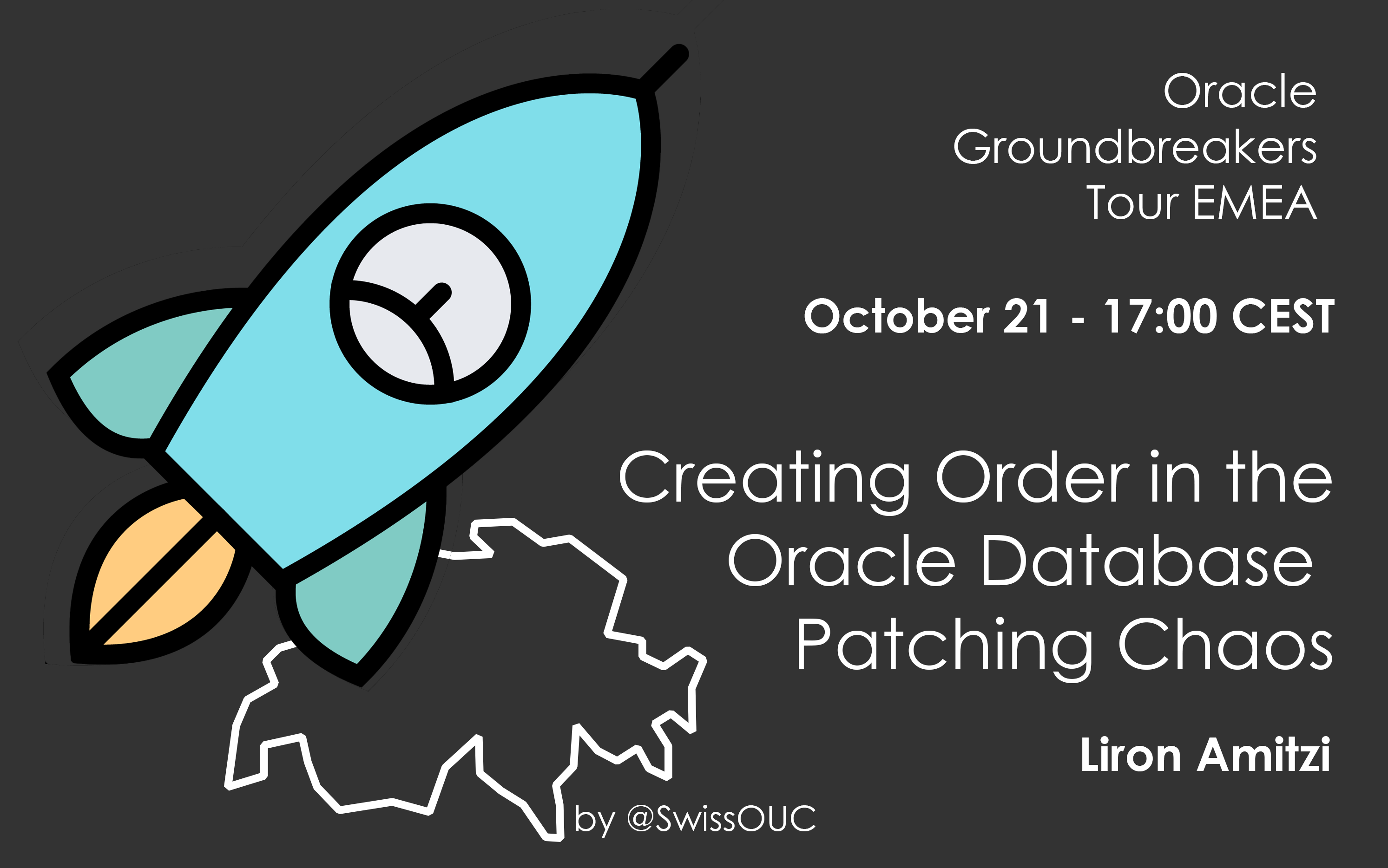 5:00pm (CEST) – October 21              
Creating Order in the Database Patching Chaos
Speaker: Liron Amitzi
Have you ever found yourself staring at a list of patches and wondering what to do? What patch should I install? What are the risks? Is there anything I should do after the patch? This becomes even more stressful in a complex environment: How to install patches on RAC? What about standby databases?
This session will try to put things in order and help create a roadmap for patching databases. We will discuss the different types of patches (RU, RUR, DBBP, PSU, OJVM, One-off), installation types (RAC rolling patches, standby first patches), known issues and where to find them, and how to plan the patch installation in order to have as few surprises as possible.
Time to register for OGB EMEA by SwissOUC